Kloeckner Metals has deployed an active RFID system in the form of Bluetooth Low Energy (BLE) technology from  RTV Engineering, using tags and nodes from  Quuppa known as "locators," which capture tag ID numbers and location data. With the solution, the metals producer reports that it has sufficiently increased its efficiency to ship three more truckloads of finished steel products to customers daily, while decreasing labor costs. According to the company, overtime hours previously required of its staff are down by 11 percent, while loading times have decreased by 30 minutes, on average.
Kloeckner Metals produces steel products for manufacturers across a broad set of market sectors, from automotive to home appliances, as well as heating, ventilation and air-conditioning systems. The company, located in Roswell, Georgia, is among the largest distributors of steel products. It provides production, processing, warehousing and consulting services for its 100,000 customers. Kloeckner Metals purchases steel from mills in the form of large coils, then conducts the necessary fabrication, which includes bending, forming, melting, cutting or welding products out of steel or other metals.
In recent years, the firm began looking into RFID solutions to ensure a more accurate and efficient shipping process as customer orders are packed and shipped. With consulting support from RTV Engineering, says Steven Nghe, Kloeckner Metals' head of marketing and communications, the company met its main objective of saving time employees previously spent locating metals within its facility, and it has been able to add shipments to each day's warehouse events. The deployment was a 2021  RFID Journal Awards finalist for Best Manufacturing RFID Implementation.
Before the solution was deployed, warehouse personnel had to manually search for products scheduled for shipment. Although products were stacked throughout the warehouse according to an organized scheme, not everything was stored exactly where expected, Nghe says, "and it was difficult and time-consuming to find certain items." On a larger scale, he adds, the company had no standard operating procedure for locating metal across all of its sites. "We wanted a technology that would define and streamline operations, all the way from inventory checks to data analysis on orders, with the end goal of improving overall business efficiency."
The company's research into technologies took it on a journey from passive to active tags, Nghe says. As a high-volume distributor, he explains, the firm found that the active tags initially investigated would be prohibitively expensive compared to passive tags, though the latter did not provide as effective a read range in the highly metallic environment. The company hired RTV Engineering to select and install the equipment, and RTV chose reusable active BLE tags. RTV integrated the tags with Kloeckner's own proprietary software, addressed any IT issues that arose and provided its Site Director middleware to interpret and read data.
The system was deployed at the company's Tulsa facility in the Kloeckner Metals Flat Rolled Group, which services customers throughout the Southwest United States. The 166,000-square-foot facility produces stainless steel, aluminum and carbon flat-rolled building products. The firm spent a significant amount of time testing the solution, Nghe says. It attached dedicated BLE reference tags at key locations throughout the facility to identify those locations automatically, and it affixed inventory tags to around 50 products being manufactured. Each tag comes with an accelerometer to wake it up when it is in motion.
During testing, Kloeckner Metals evaluated the accelerometer's sensitivity to ensure each movement would be captured. "This helped us to finetune the technology before implementation," Nghe explains. For the full-scale deployment, RTV Engineering installed 70 Quuppa locators on the ceiling throughout the facility, in order to capture transmissions from the tags as the metal products moved through storage and were prepped for shipping. Using the Site Director middleware, he says, "We were able to convert the 'x,y' location of each asset to a specific zone location."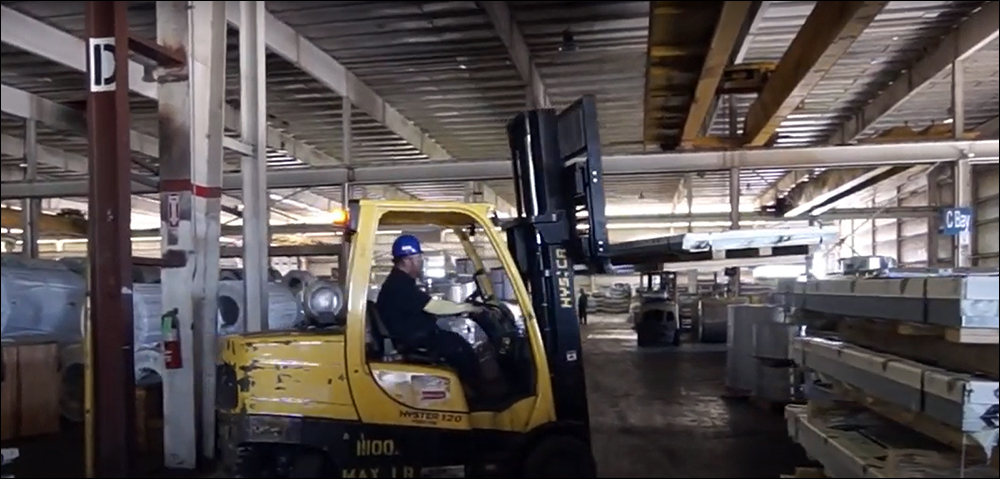 The facility was broken down into more than 3,000 zones, including bays, columns, rows and sections. This allowed personnel to quickly locate assets based on the zone name in the software. Site Director filters the incoming raw data from Quuppa's Positioning Engine software and only reports asset movements between zones to Kloeckner's enterprise resource planning system. When a product is built according to a customer order, a reusable Quuppa tag is attached directly to each piece of metal. Kloeckner has assigned BLE tags (specifically, RTV Engineering's RTV-AT-01 tags) to all of its approximately 4,000 metal pieces.
Kloeckner Metals and RTV Engineering coordinated the management and integration of the tagging process with the company's shipping and material-handling personnel. Depending on the metal shape, some receive adhesive tags, while others are attached via a strap. The location on the metal where the tags are attached changes depending on the shape. "A general rule is that it is placed where the metal won't be stacked," Nghe states, in order to protect the tag, as well as to ensure data transmission and capture.
The locators read each tag to identify the location within the facility for shipping, and to enable the fast identification of assets during inventory counts. The software can receive alerts regarding a particular item—for instance, if it waits too long in one area or is being loaded with the wrong shipment. The tag remains on the metal coil until it is loaded onto a vehicle to be sent to a customer, at which time it is removed and cleared from the system for reuse.
Once the solution was taken live, Nghe says, the company was surprised by the results. "We expected to save time," he recalls, "but not as much as we did." The average time required to locate materials in the plant decreased from an average of about 30 minutes to approximately only six minutes, which increased throughput by several truckloads of steel per day—a roughly 8 percent increase in daily shipments. Some configuring was required so the system would work in the metallic environment. Due to the highly reflective nature of this deployment, Quuppa developed "earmuffs," a method of tuning each locator's reception sensitivity.
"There's a lot to be done with location technology," Nghe says. "We're now looking to digitize the supply chain further and automate the entire customer journey." The unique ID encoded on each tag could be linked to a customer's orders, he explains. If a tag were read at the point of delivery to a customer, Kloeckner Metals could thus determine when that product was received, and the software could use that data to trigger an automatic reorder. Ultimately, Nghe says, the company has found that locating goods faster means orders can be fulfilled faster, boosting customer satisfaction.
Another benefit is safety, the company reports. Since warehouse workers can now quickly access products and deliver them to dock doors, they spend less time driving through the facility. "In a warehouse, you have a lot of corners, a lot of moving parts—it's a very active environment," Nghe says. "We want to make sure that while looking for things, people can plan ahead and get there safely, rather than looking around for a long time," which increases the risk of collisions. Company-wide, Kloeckner Metals has 42 locations, and it plans to expand the solution to many of those other facilities in the long term.